Note: The special 30,000 mile deal is no longer active. However, you can still earn 25,000 miles by using this link or any application link below
Have you ever wanted to fly somewhere—anywhere—on a whim?
Forget about vacation time and hotels. Have you ever had a free weekend which made you say 'Man, I wish I could go to Paris/Buenos Aires/Hawaii right now'?
Yesterday, I had the same feeling. So I reserved a ticket to Florence, Italy—first class—for free. Just $35 in taxes and fees (+75 for booking the week of the flight).
And, just for a week, there is an awesome promotion to make this dream your reality.
The Starwoods AmEx Bonus — 30,000 miles (enough for a R/T Domestic or International Ticket)
Many of my readers have read my Travel Hacking Report, where I talk about how I flew business class to Medellin, Colombia for $77. In that article, I discuss the specifics of Travel Hacking — namely, how to apply for credit cards that will give you awesome bonuses, and how to redeem them for free tickets or hotels.
And I did all of this with an increase in my credit score.
If you're new to the party, I'd recommend you check out my In Depth Guide to Travel Hacking.
Once per year, Starwoods offers a huge bonus on new users. For signing up (and meeting the minmum spend), you will earn 30,000 star points. What can you do with this bonus?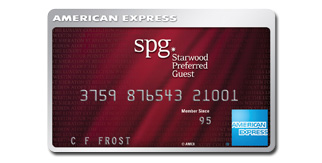 Get this card, now. No annual fee for a year.
Some Bonuses You Can Redeem With The Starwoods Card
When you sign up for the Starwoods card, you will receive 10,000 points immediately, then 20,000 more points after you spend $5,000 in 6 months. So, once you meet the minimum spend, you will have 35,000 points. What can you do with this?
Starwoods is a hotel chain, so you can get some amazing flight + hotel deals with your 35,000 points.
Here are some amazing deals I've seen along the way, all over the web.
1) Matty submitted to The Points Guy, redeeming 28,800 points + $540 for 18 nights at the Great Wall Sheraton Hotel in Beijing.
2) In the same article, Adam stretched 30,000 points into $8,388 worth of hotel stays in Manhattan, NYC.
3) From USA Today: A 16 Night Stay in Thailand, at 3 and 4 star hotels, for 35,000 points + $555 (or $35/night)
4) Starwoods gives you a 25% bonus on all transfers to airlines, in 20,000 point increments. This means, once you've earned 40,000 points, that is the equivalent of 50,000 miles. What is 50,000 miles? How about a Round Trip business class flight to Hawaii, or a R/T economy flight to Buenos Aires? It's only 40,000 miles offpeak to Buenos Aires—and you'll still have 10,000 miles left — enough for a one way to Rio De Janeiro.
Any of the above for a SINGLE CARD. Not 20 credit cards—just one.
The best part? There is no annual fee for the first year. So, if you don't like it, cancel—no fee whatsoever.
The Starwoods Bonus ends in a couple weeks
After the deadline, you won't get such a huge bonus. You'll miss out on free flights!
Over 50 people have signed up from my website to get this card. I've received a ton of praise, but never a negative review.
Feel free to email with any questions, or post in the comments.